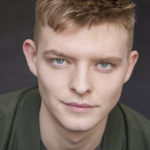 Jack recently appeared in the play, IN OUR VEINS by Lee Coffey for Bitter Like A Lemon at the Peacock Theatre. Prior to this he played the role of Romeo in ROMEO & JULIET directed by Geoff O'Keefe for Mill Productions.
​Since completing his two years training in the Gaiety School of Acting he has appeared in the roles of Albany/Cornwall and Oswald in KING LEAR and the role of Macduff in MACBETH for the Shakespeare for Schools programme.
​He recently played Ffolliet in THE SHAUGHRAN directed by Claire Maguire, and had roles in  ACRONUMB in the Scene and Heard Festival and TRUE PIRATES NEVER DIE written by Lee Coffey and directed by Aoife Spillane-Hinks all at Smock Alley  Theatre. He also played the role of Benvolio in the Mill Theatres 2017 Production of ROMEO & JULIET,
​Jack is a member of the theatre company, Bitter Like a Lemon, and has a huge interest in writing, devising and physical theatre.
​He has appeared on screen in short films, THE RING directed by Laura Way for Bodecci Film and ECHO directed by Peter James Melrose for PJM Productions.
​He also starred in the the Walking On Cars music video for their single, MONSTER.