In August, socially distanced audiences in Kilkenny got to witness one of this year's most memorable theatrical performances, when world-renowned actor Stanley Townsend performed the world premiere of Mike McCormack's award-winning book, Solar Bones.
Now audiences worldwide will have the opportunity to watch the stunning production online, via RTÉ Culture, for a limited 24-hour period on November 5th from 7.30 pm.
Winner of the Impac Dublin Literary Award 2018, Solar Bones is Mike McCormack's multi-award-winning elegy to the merits of an ordinary life, spoken from an intermediate state between memory and nothingness.
Marcus Conway has come home to his kitchen in Louisburgh Co. Mayo. Everything seems normal, yet he is haunted by the feeling that nothing is quite right. Poring obsessively over the details of his relationships, his world and his work as an engineer brings him closer to an understanding of how the things and people he loves have come together, and how they have and must inevitably come apart…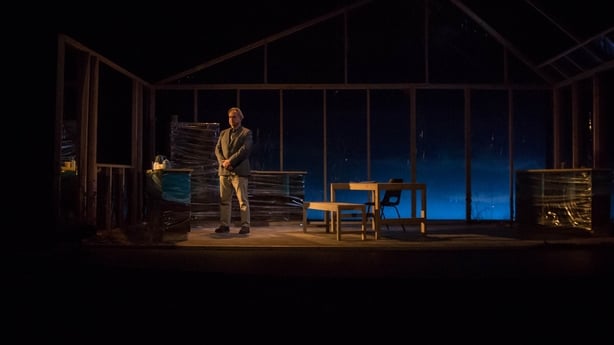 Presented by Kilkenny Arts Festival in partnership with Rough Magic, in association with Watergate Theatre, adapted from Mike McCormack's novel by Michael West and directed by Lynne Parker, Solar Bones was presented as part of Kilkenny Arts Festival X.
Teaming up with RTÉ Culture and supported by Department of Tourism, Culture, Arts, Gaeltacht, Sport & Media, audiences across the world will now have a chance to see this unforgettable performance online.
Join RTE.ie/culture for Stanley Townsend in Solar Bones on Thursday, November 5th from 7.30 pm – the production will be available to watch worldwide for 24 hours only.